Along with the 1881 Movement we were nominated in the first-ever Kick It Out Fans for Diversity Awards in the Premier League category for our Rainbow Laces display in December last year.
We headed into London for the event which was being hosted at Amnesty International HQ in London not expecting to win the award as we were up against three other groups who were all worthy of winning the award.
Everyone, Together – Bournemouth AFC
Pride of Irons – West Ham FC
Proud Lilywhites – Tottenham Hotspur FC
A number of special guests were also attending the event, including Sophie Cook (author), Troy Townsend (Kick it Out), Kerry Evans (Wrexham DLO), Stephanie Fuller (Pride in Football), Nity Raj (Brentford FC), Mie Ostergaard (Sky Sports), Jermaine Agyako (Cheeky Sport) and many more.
When we arrived we had time to have some refreshments and a catch up with some of the many LGBT+ fan groups who were representing different clubs from up and down the country.
Dave Messenger from the club was also there in his role as SLO and to give us his support, we also bumped into Watford legend Jason Lee who congratulated us on the display and said he thought we would win the award.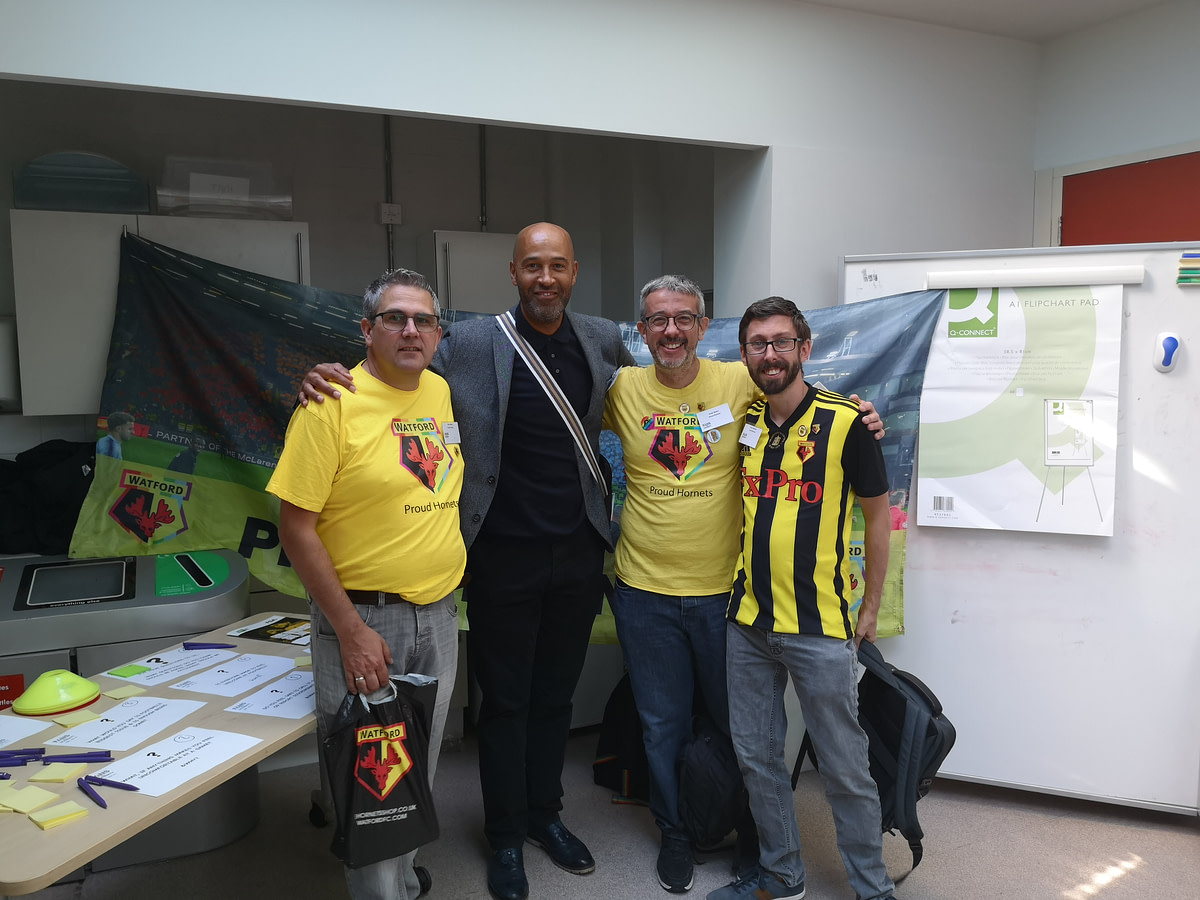 The conference and awards then started so we made our way into the main hall to take our seats, we listened to many of the special guests talk about the work they have been doing and what we can all do going forwards to help end discrimination.
Then the awards were handed out in each category and as it went on we got more nervous and then it was finally the Premier League category, just like at the Oscars they explained what each nominated group had done and then they announced the winners, even up to the point that they said our name we didn't feel confident that it would be us, thankfully they did call our name and then we could relax and enjoy the moment.
The full list of winners is below:
Women's Game – Festival of Football 2019 – Goal Diggers FC
Non-League – Jordan Tyms – Altrincham
League 2 – Lady Imps Supporters Association – Lincoln City
League 1 – Proud Valiants – Charlton Athletic
Championship – Villans Together – Aston Villa
Premier League – Proud Hornets – Watford
Free Kick – Allies in Access – West Midlands